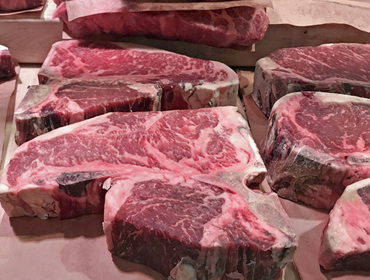 Hanging weight determines your cost
Our beef and pork is sold based on hanging weight, which is the weight of the meat while it is hanging to cure.  Our hanging weights for a whole beef can vary between 700 to 850 pounds, varying because of the breed of the beef and the sex of the animal. The bulk of our herd is Angus so the hanging weight is typically on the larger side. The hanging weight will determine the total amount due. Hanging weight is the most accurate weight; however, it will be a higher weight than the total weight you will receive in your freezer due to trimming during processing. The loss due to trimming is approximately 30%.  For example, if your hanging weight was 800 pounds, you can expect approximately 560 pounds of meat in your freezer.
After your meat is processed, Davidson Meat will contact you so you can pick up your beef or pork. They do not ship or deliver. Payment in full is required before pick up. You will make one payment to F&R Miller Farms for the beef or pork and another payment to Davidson Meat. The price to Davidson Meat includes slaughter, processing, cutting, wrapping in freezer paper, and freezing. Both payments are made at Davidson Meats. Only cash or check is accepted.