Reserve the amount of freezer beef/pork that you would like to purchase by
filling out and submitting the Reservation Order Form..
We will confirm your reservation.
We will notify you 1-2 weeks prior to the butcher date.
Beef will be available in January, February, March and July.
Pork is available at various times during the year.
We will deliver the animal to Davidson Meats for butchering and processing..

You will call

Davidson Meats (513) 897-2971, to get the hanging weight and notify them of your desired processing. The hanging weight will determine the total amount due.

During this time, they can answer your questions and help you determine the best way to have your meat cut.



Davidson Meats will call you when your meat is ready for pick up.
They are located in Waynesville, Ohio.

They do not ship or deliver.



Davidson Meat Processing
6490 Corwin Ave. Waynesville, OH 45068
(513) 897-2971
Your payments are due when you pick up the processed meat.



Two payments will be made.


One to F&R Miller Farms for the meat.
Cash or check accepted.

One to Davidson Meats for the processing.
Cash or check accepted.
Your beef will keep in the freezer for 365 days.
Processing Cost Example
Price per pound in the chart below is an estimate for 2018 beef.
Prices are subject to change.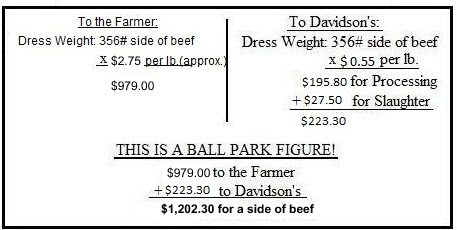 For more information about custom processing, meat cuts and pricing click here.